Everyone is talking about fitted wardrobes these days. People praise them as true space savers. However, if you've never personally owned one, you can't really be sure whether to get one installed in your home or not. After all, fitted wardrobes can come with a significant price tag.
If you are a responsible homeowner, you will probably want more information before making the final decision. For instance, will it bleed your money, or is it an investment?
Did you know that you can find out exactly how much value fitted wardrobes add to your home?
Enter your postcode and get a free instant free home valuation today!
What is the difference between fitted and built-in wardrobes?
If this is the question that puzzles you, you should know that you are not the only one. Thousands of people search the internet every day on a quest to find out whether built-in and fitted wardrobes are the same thing or not.
We can be sure about one thing, though, when it comes to household decor trends, installing fitted or built-in wardrobes is very trendy at the moment, both in the UK and worldwide. In the US, they are known as fitted closets. You can also find them listed under sliding wardrobes.
Now to answer your question. There is no difference between fitted and built-in wardrobes. The phrases can be used and are used interchangeably.
10 things you need to know about fitted wardrobes
Fitted wardrobes will instantly create more space and can be tailored to your room and lifestyle.
Desperately seeking more storage space in your bedroom? You're not alone. Wardrobes across the UK are bursting with clothes, shoes and whatever else we can cram in. Freestanding wardrobes compound the problem because they don't make the most of space or allow for customisation.
A simple way to boost your bedroom storage is with built-in wardrobes. They instantly create more space – three times more, to be exact – and are available in sizes and finishes to suit all sorts of spaces.
Read on to discover what you need to know before installing fitted wardrobes.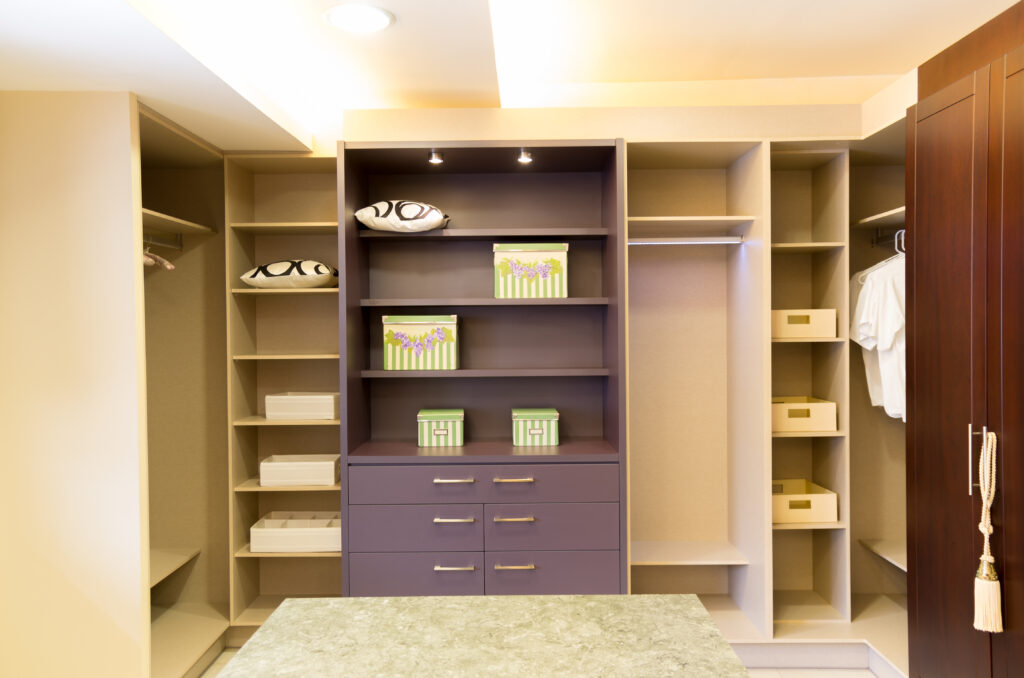 Freestanding wardrobes have gaps above and to the side that are crying out to be filled with knickknacks and dust. In contrast, fitted wardrobes can be tailored to fit the full height of the room. Even if a bedroom is an awkward shape, a fitted wardrobe can turn even the tightest corner into a workable home for belongings.
You're making an investment
Now for the bad news. Unlike a freestanding wardrobe, you can't take a fitted wardrobe with you when you move house. However, there's a silver lining, says Matthew Nagel, director at Neatsmith. "Your investment is always recouped when you sell your house because of the premium that buyers put on storage, especially in London homes," he explains.
Choose from all budget levels
There's an excellent choice of companies offering fitted wardrobes at a variety of price points. These range from mass-market retailers, such as Homebase and B&Q, to fitted furniture specialists such as Neville Johnson.
If your budget allows, a bespoke furniture company will design and hand make wardrobes to suit your space and style. It's costly, but the benefit is that you won't have to adapt your ideas to an off-the-shelf solution.
Are fitted wardrobes expensive?
It's quite normal to be cautious when making new plans for your home, especially when planning to add a fitted wardrobe to your home. You not only have to take into account a fitted wardrobe's look, style, colour, but also its cost.
Many homeowners get cold feet when they find out that these wardrobes are quite expensive. If you are one of these people, you might end up making a common mistake thinking that the significant price tag on those wardrobes is justified. After all, they look great and offer many benefits, including raising the value of your home.
If you know where to look, you'll be able to find affordable furniture, including fitted wardrobes. Here are just a couple of ideas to help you get one of these wardrobes even when on a budget.
Bespoke
Custom made (or bespoke furniture) will always be more affordable than branded pieces. Plus, you might even need to consult a professional because the branded wardrobes can't fit perfectly in your master bedroom. You can do a couple of things to make sure that isn't the case before you order a wardrobe from someone.
Whether you decide to work with an individual or a firm, make sure to ask to see their portfolio. It will help you assess the quality of work and determine if you want to use their services or not. If you choose this path, you will be paying for the materials and labour.
Furniture stores
Scouting furniture stores is also a great idea if you want to save some extra money. Fitted wardrobes are a hot household furniture item. Nevertheless, they are not that hot to cause a lack of supply. We are trying to say that there are plenty of furniture stores out there with outlet wardrobes to pick from, and we all know outlet items come with a smaller price tag.
Yes, this approach may be more time-consuming. However, you might find a perfect piece either on sale or labelled as an outlet.
Department stores
While we are on the subject of furniture stores, you should not forget about department stores too. These stores offer a wide range of consumer goods, often including furniture. Department stores usually have ongoing sales and discounts.
It's worth hitting nearby department stores or checking their websites. You never know when you can get lucky and get a great-looking high-quality built-in wardrobe.
Ikea
Ikea is a world-famous ready-to-assemble furniture company. It's worth keeping an eye out on Ikea's wardrobe offer. The company is known for delivering beautifully designed furniture.
Their pricing policy caters to people who don't want to spend a fortune on furniture. Plus, there is that DIY element as you get to assemble and install a fitter wardrobe on your own.
Can I fit my own fitted wardrobes?
Whether you can fit your own built-in wardrobes or not depends on the model you buy and who you buy it from, so we couldn't give you a straightforward answer. Generally speaking, most of the fitted wardrobes on the market are delivered flat-packed to homeowners. They are previously cut and edged to suit the specific space, which you can find in their specifications.
Fitting these wardrobes on your own will require some DIY experience and tools. The two most commonly used tools for this project are a circular saw and screwdriver. This will save you thousands of pounds as you will not have to use full-service companies.
DIY stores
Finally, you can take measurements and do calculations on your own and then head to one of many DIY stores in the UK. If you know your way around furniture, you will be able to save even more cash by doing the entire work yourself. Some of the most popular DIY stores in the UK include B&Q, The Range, Pickles, and many others.
Recommendations yield the best results
Irrespective of where you buy your fitted wardrobes, always ask friends and family for recommendations. Read online reviews too, and make sure you visit showrooms to see and feel the quality of the products. Go to at least three to narrow down your options, and don't be afraid to ask questions about what companies offer.
If you opt for a bespoke furniture company or a local carpenter, ask to see a portfolio of their work. Ideally, visit previous projects and use the opportunity to chat to the homeowner about the company, its service and how problems were handled.
Future proofing will keep the look fresh
If you want to keep things simple, choose a company that will manage the work from concept to completion, and that will help with design and installation. This can avoid costly mistakes as well as stress.
Given that fitted wardrobes are a long-lasting solution, it's essential you choose a future-proofed option that you know will still suit your personal taste in years to come. "We'd advise determining the colour palette of your room before you start adding different furniture elements," advises Rachel Hutcheson of Sharps.
Think about the size and shape of your bedroom as well as your personal preference when you're choosing wardrobe doors. If you're short on space, opt for sliding or bi-fold doors so you don't need as much room for them to open.
Small bedrooms also benefit from mirrored doors, as they create the illusion of a larger room and provide a full-length mirror without taking up valuable floor space.
Before you start on your fitted wardrobe project, you'll need to take some measurements. First, determine what the ceiling height is at both ends of the room as well as the middle. This will reveal whether or not the wardrobe needs to accommodate a sagging ceiling.
Secondly, check the floor is level. "This is yet another 'need-to-know' piece of information, as fitted furniture can now be designed to meet exact dimensions of variation in floor level," says Simon Bodsworth, managing director at Daval. "When it comes to the surface material of the floor, I would recommend your wardrobes be fitted onto a hard floor. When fitted on carpet, the wardrobe can drop over time as a result of the carpet settling and this will undoubtedly affect its once-flawless finish."
Made to measure means just that
Does the room include coving or skirting boards? If yes, then ensure you provide the dimensions of any fixed details that are protruding. They'll alter how the back of your wardrobe is designed, so must be accommodated to make a flush, tailor-made finish.
Do any electrical plugs need moving before installation? "If moving an outlet is just not possible, then bespoke fitted furniture will provide a solution to conceal unsightly wires, cables or controls for integral lighting as well as maintain easy access. Just make sure you mention these requirements at time of concept," says Simon.
You'll need to prepare the room
"We generally advise that you don't decorate your room prior to fitting," says Rachel. "However, as our wardrobes are fitted without backs and sides as standard, if you're planning to redecorate the walls, then you may wish to do this before installation as these walls will be on show when the doors are open. In addition, we ask that customers remove all furniture from their bedroom prior to installation and if carpet is fitted, to roll it back in the area where the new wardrobes will be situated."
Choose interior options to suit your lifestyle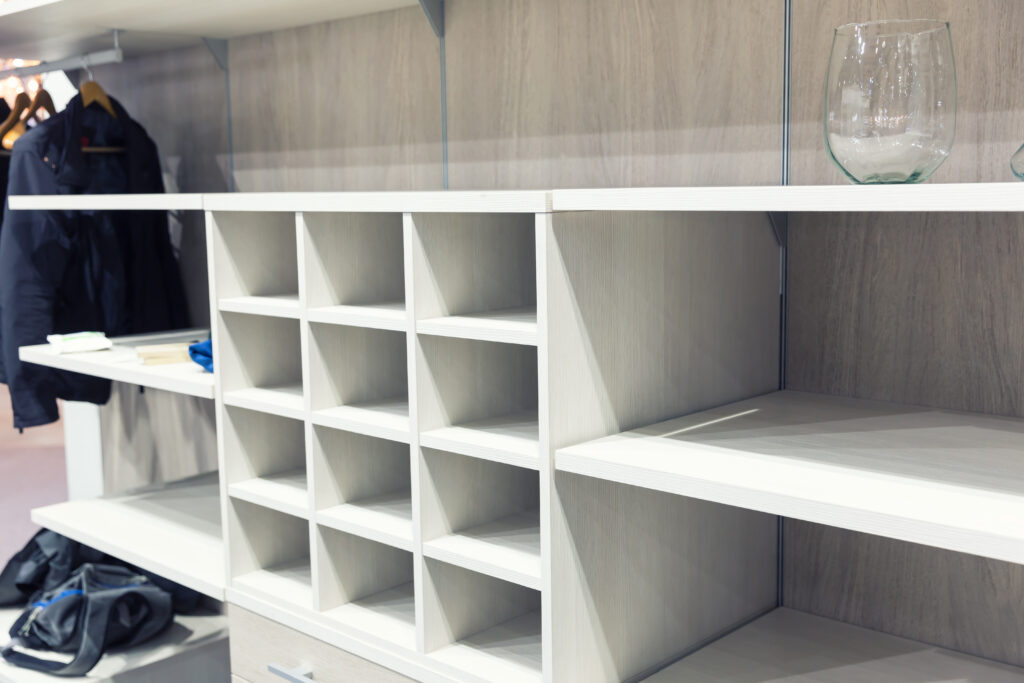 The inside of your wardrobe must be as beautiful as the outside. Make sure you choose a company that offers the right range of options for your specific storage needs.
"Whether you have an abundance of tailored suits or a passion for the occasional Jimmy Choo, there's a variety of hidden-away or display options to suit you and your lifestyle," says Simon.
Ask about hanging rails, shoe and trouser racks, and specialist pull-out shelving to suit your needs. Some companies also offer space for media devices and integral illumination.
Fitted wardrobe ideas
Even though you know you need a fitted wardrobe, you might be stuck not knowing which one to get or where to have it installed. Here are a couple of fitted wardrobe ideas to inspire you and get you going in the right direction.
Closed and open storage for the best of both worlds solution
Blending a fitted wardrobe in your room doesn't have to be challenging. If you mix closed and open storage, your wardrobe will suddenly become a breathtaking decor piece. The glass-fronted doors are both beautiful and practical, as you can see what's inside every cabinet.
Use chalkboard paint to turn your wardrobe into your kids' canvas
Your fitted wardrobe can inspire creativity in your kids if you add a little bit of chalkboard paint to its doors. Plus, you will wake up to a new piece of art every day and save tons on paint and labour costs.
Use the same tones as the floor
The colour of your fitted wardrobe is very important as it will often cover an entire wall. So choose the colours wisely. If you choose the wood tones, you can soften the colour shades on your walls and your bedsheets. To do it, simply use the same wood tones as the floor.
Conclusion
Fitted wardrobes can help you improve the look and feel of your home, increase the functionality, add more space to the room you install it in and so on. Ultimately, it will also increase the value of your home in the market.
Hopefully, now you know more about these wardrobes. As you can see, you don't have to spend a fortune to get one. There are plenty of ways to get a built-in wardrobe, even on a budget.