Asking prices for homes in England and Wales increased by an average of 1.3% in March compared with the previous month, according to the latest house price index published by Rightmove. 
The survey from the property website shows that data for the past month matched the second strongest month-on-month growth witnessed since 2007.
Across England and Wales, the average asking price in March rose 1.3% or £3,877 month-on-month to £310,108, which is just £363 below the record high of £310,471 reached in June last year.
Rightmove said the latest price increase reflects the widening supply-demand imbalance in the market and reflects the "continuing resilience of the market", although prospective buyers are rejecting properties that look overpriced.
"Since the start of the decade, the average March price rise has been 0.9%, so this month's 1.3% uplift is an indicator of a shortage of suitable property for sale in many parts of the country, with strong demand for the right property at the right price," said Miles Shipside, director at Rightmove.
But on a year-on-year basis, asking prices are now rising at a more modest rate.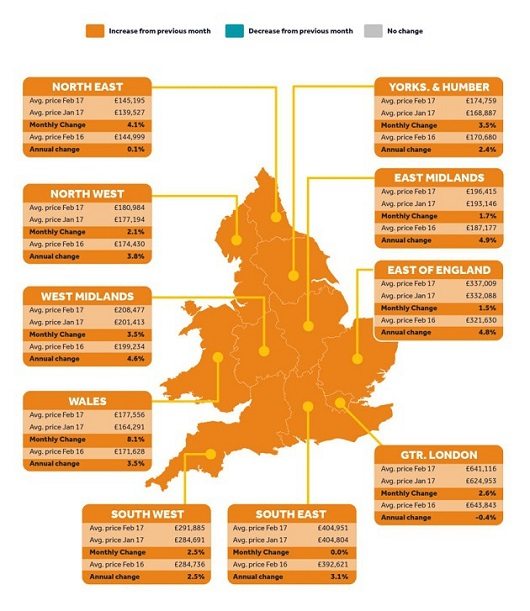 A year ago, prices were rising by 7.6% annually, but now the annual increase is 2.3%.
Two areas have seen asking prices fall compared with a year ago. In Wales, the average asking price is £173,073, a 0.6% drop year-on-year.
In the North East of England, asking prices are 1.1% lower than last year, now at £146,796 on average.
Shipside continued: "The price-rise crown has shifted from its previous strongholds. The pace is no longer being set by the more affluent commuter-belt south, including London with its international appeal. Neither is it set by the cheaper north driven by a mass of investors swooping on high buy-to-let yields."
The East Midlands has witnessed the biggest jump in asking prices, up 5.7% annually – more than any other region – taking the average price to a new record high for the region of £200,620.
The West Midlands has the second-highest annual asking price growth, with a 4.2% rise taking the average asking price there to £212,798.
Andrew Oulsnam, director of Robert Oulsnam & Company in Birmingham, said: "We are seeing very positive market conditions within the West Midlands at the moment, with an increase in properties being placed on the market and strong interest from buyers. This is translating into the majority of sellers achieving their full asking price and in many cases exceeding the guide price. We expect property prices to continue to rise between 4-5% over this year, outpacing many other parts of the country."
Jeremy McGinn, director of Jeremy McGinn & Co in Stratford Upon Avon, commented:
"We had a record month for sales in February and properties that are priced correctly are often going to sealed bids. Low stock levels are still a problem for us, especially for properties up to around £500,000. There's been consistent activity from first-time buyers especially those with the bank of mum and dad to help them, and we're finding that those who can't afford Stratford upon Avon itself are looking further out, which is likely to drive up prices in areas like Bidford upon Avon and Alcester as demand increases."
Also reflecting on Rightmove's latest home price data, Peter Woodthorpe, director of Readings in Leicester, said: "So far this year the number of sales has exceeded the number of new properties coming on to the market. Combined with excellent results at our February auction it comes as no surprise that prices have risen so strongly. Most buyers in Leicester remain confident in the prospects for the local market."