Whether you're putting a personal stamp on a new place or giving a fresh look to a tired room, small home improvements make a big difference.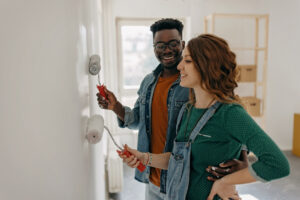 Tip 1: Freshen up walls
A coat of paint is a low-cost way refresh any room. If you're selling, stick to neutral shades to maximise the feeling of light and space, and to let potential buyers imagine making the property their own.
Updating kitchen or bathroom walls? Make sure you pick a paint that's suitable for hot and steamy conditions or you could find that mould and mildew develop. Plenty of brands offer specialised paints for these conditions.
If you're on a budget, you can save money by doing the painting yourself – just check out the many online 'how-to' guides if you're a first-timer. And even if you're an experienced painter, be sure to get tester pots of the colours you like before getting going. Colours can look completely different on your walls from how they appeared in the shop.
Colours also change according to light: what you see in the evening may be different from what you see in the morning. So, before you make a final choice, use your tester pots to see how different shades appear at different times of day.
Don't know the difference between matt, eggshell or gloss? Find out which paint finishes to use where with our introductory guide.
Tip 2: Paint over wall tiles
It's possible to tile over existing tiles, but this calls for some research and a few calculations. To get a good result, you'll need to know what the existing tiles were fixed with. For example, if lightweight tiles were fixed to a painted surface with an inferior adhesive, that bond may fail once you add the additional weight of the new tiles.
You'll also consider the total weight of the two layers of tiles added together and whether it will exceed what the background material is rated for. Plasterboard, for instance, is rated to carry 32kg per square metres (if it hasn't been skimmed). However, this reduces to around 26kg per square metre if it has been skimmed. If you tile onto existing tiling, you may exceed that weight allowance, so seek advice from a professional tiler before getting started.
It's quicker and less complicated to paint over tiles. Use dedicated tile paint and always follow the instructions on the tin.
Tip 3: Replace kitchen cupboards
Good storage is a key component of any kitchen. If you want to update yours on a budget, look for flat-pack cabinets: they are affordable and can be put together by a competent DIY-er.
What's more, many of the major DIY retailers offer you the choice of planning your design from home online from home. Alternatively, you can book an appointment with an in-store designer who'll help to draw up plans.
If you need help taking accurate measurements, use a retailer that offers a design service. A representative will visit you at home to discuss your options and take all the measurements needed. Generally, there's a small fee for this.
Tip 4: Update kitchen doors and drawer fronts
If your kitchen cabinet carcases are in good condition, save money by keeping the frames and just replacing doors and drawer fronts. This way, you can get a brand-new look for a fraction of the cost of a new kitchen. Plus, there's less stress because the entire job rarely takes longer than one to two days.
You can even do this yourself if you have decent DIY skills. Kitchen Door Workshop has put together a comprehensive step-by-step guide that takes you through the complete process. Download it here.
If the words 'flat-pack' strike fear in your heart, call around a few local kitchen fitters for quotes. Then compare these to what the DIY superstores can offer. As always, before you choose a company, check them out via references or online review sites.
Tip 5: Paint cupboard doors
Sprucing up kitchen doors with a lick of paint can be time-consuming, but it's a budget-savvy way to get a new look for less. Start by removing knobs and handles before painting and giving the doors a good clean sugar soap or a strong detergent solution to remove all dirt and grease.
Then rub down wooden and painted cupboard doors with a fine sandpaper (you don't need to do this for laminate doors) and apply a wood or melamine primer depending on the surface. With some paints, you won't need to prime, so always check the instructions on the tin.
And finally, apply two coats of your favourite colour (make sure you use dedicated cupboard paint so it's tough enough for a kitchen environment).
Tip 6: Update door handles
An easy DIY win is to update old or outdated knobs and handles. This can breathe a surprisingly refreshing new lease of life into a room.
Make sure the new knobs are equal to or larger than the ones they're replacing. This will make sure they cover the 'footprints' left by the old knobs.
You can usually unscrew old handles from the rear of the door or drawer. Measure the distance between the centre of the two holes on the handle so you can find a suitable replacement that matches the old handle holes. If you can't, again, choose a handle with a larger 'footprint' than the handle you're replacing.
Tip 7: Replace bathroom taps
Replacing basin brassware is an easy and instant way to rejuvenate a tired bathroom. Buy the best-quality taps you can afford: poor-quality products quickly discolour and you'll have to replace them more quickly.
According to the pros at Victoria Plumbing, replacing a basin tap is a beginner-level job and all you need is time and confidence. Click here to discover their five easy steps to success.
Tip 8: Get the hang of mirrors
If your budget won't stretch to installing skylights or patio doors, use mirrors to maximise natural light. A tried and trusted trick is to hang a mirror opposite a window to capture light and bounce it around the room. Placing a mirror adjacent to wall lights has a similar effect.
In small spaces, remember that the bigger the mirror, the more space it'll seemingly create. A floor-to-ceiling mirror behind a piece of furniture, for example, will create the illusion of a whole other room opening up behind it.
Tip 9: Smarten up your front door
Your front door is the first thing visitors or potential buyers see, so make sure it makes a good first impression. If yours is looking a little tatty, boost its kerb appeal and protect it from the elements with a fresh coat of paint. When it comes to choosing the right colour, take your cue from the style of your house and the vibe you want to create.
Then invest in shiny new house numbers, making sure you match the finish to your door knocker and letterbox (also cheap to upgrade if need be). For a final flourish, place a pair of potted plants either side of the door. If you've chosen white door paint, the UK's most popular shade, the pots are the perfect way to add a shot of colour.
Tip 10: Upgrade your lighting
Lighting doesn't have to cost the earth, but it goes a long way to creating a sense of space. If you have a single light source in the centre of the room, make a statement with a dramatic pendant or chandelier. Then use floor and table lamps to spread light and focus around the room.
Got a small space with a high ceiling? A long pendant will draw the eye up, emphasising the room's height rather than the lack of floor space. Another space-saving trick is to choose a glass shade. The 'barely there' effect it creates opens up the space.
Find out your home's value
Whether you're looking to make improvements in your property or sell up soon, be sure to understand how much your home is worth. Book a free, no-obligation valuation from a local estate agent for an accurate figure.  
Whether you're looking to make improvements in your property or sell up soon, be sure to understand how much your home is worth. Book a free, no-obligation valuation from a local estate agent for an accurate figure. Whether you're looking to make improvements in your property or sell up soon, be sure to understand how much your home is worth. Book a free, no-obligation valuation from a local estate agent for an accurate figure.  Whether you're looking to make improvements in your property or sell up soon, be sure to understand how much your home is worth. Book a free, no-obligation valuation from a local estate agent for an accurate figure.  Whether you're looking to make improvements in your property or sell up soon, be sure to understand how much your home is worth. Book a free, no-obligation valuation from a local estate agent for an accurate figure.  SaveSave