At almost every step of a kitchen renovation, you'll be faced with the decision to splurge or save. Here's how to make a kitchen remodel work for your budget.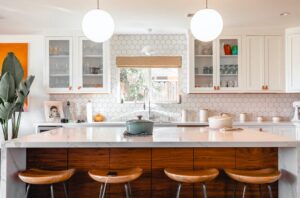 A kitchen renovation is easily one of the most expensive projects a homeowner can undertake, from fittings to appliances to labour costs. This is why, when you're thinking about remodelling the heart of the home, you need to know where to rein in your funds and where to focus your budget.  
When you're dreaming about future days of culinary bliss, take a look at these tips to extend your renovation budget and get you closer to your dream space – without having to make a lot of sacrifices.  
How much does it cost to renovate a kitchen? 
It depends entirely on your space, design, fittings and fixtures. While you don't want to tighten the purse strings so much that your kitchen renovation never comes to fruition, you do want to strike a balance between quality and design (especially as a well-executed kitchen renovation can add up to 10% to your home's value). 
How to renovate a kitchen on a budget
Spend: Design 
Don't rush the design stage (after all, the kitchen is the heart of the home). Source inspirational pictures to narrow down exactly what you want out of the remodel, both in terms of look and function.  
Take your ideas to a kitchen professional who can create a cohesive, efficient and stylish space. A designer will help you plan the kitchen to avoid clutter and poor traffic flow. If you're putting in a new kitchen, keep in mind that a big chunk of your budget will go towards building and labour expenses.   
Save: Appliances 
It's all too easy for these big-ticket items to swallow your entire budget. To pare back spending, be functional about the number of appliances you need to purchase. The basics include a hob, oven, fridge, freezer and possibly a dishwasher. Anything else is heading into luxury territory.  
Purchasing low- to mid-range appliances, or keeping what you already have, can free up funds for more wow-factor features like quartz worktops. Adapt this to your needs, however. If you're a keen baker who can't live without a proving draw or a coffee connoisseur who needs an espresso machine to function, work these appliances into the design and budget – but be aware it might mean cutting back in other areas. 
Spend: Worktops 
Nothing is quite as visible in your kitchen as the worktops. They are the primary surface you work on and clean every day. While there are some great acrylic options out there, stone, quartz, and wooden kitchen worktops really up the ante.  
A large kitchen island continues to be a favourite for Brits, with many homeowners splashing out for a stunning waterfall island complete with electricity, water and seating. They double up as a food prep area, breakfast bar, kitchen table, storage and social space. If there isn't enough money or square meterage for a kitchen island, consider a peninsula. It will jet out from the cabinets you already have, giving you the benefits of an island at a more economical cost. 
Save: Cabinets 
Save on the kitchen renovation cost by determining how much cabinetry space you truly need. Take an inventory of your kitchen goods, getting rid of anything you don't need or use. Once you have a final list of items, you can plan your storage. You may find you need fewer cupboards than you thought or choose a larger kitchen island with fewer upper cabinets on the walls. A good way to cut back on cabinets is to replace eye-level units with open shelving. Not only will this reduce expense, it can also be a great opportunity to display accessories and add personality to your space. 
However, if you live in a period property with higgledy-piggledy nooks and wonky walls, always opt for custom cabinets for that seamless fit and high-quality finish.  
Spend: Taps and hardware 
Relative to kitchen design and worktops, you may think the cost of a tap is cheap as chips. Yet, as the most frequently used fixtures, the taps, cabinet handles and pulls deserve to be sturdy and high-quality. Plus, spending extra money on cohesive accessories that perfectly complement your kitchen design can tie the room together. 
Save: Splashback 
Although splashbacks need to be durable and long-lasting, it's probably not an area where you need to drain your budget. There are budget-friendly solutions, such as sheet metal, glass or plain tile, that are affordable, stylish options. That said, if you've fallen in love with a high-end, decorative tile, you could use it as a feature and surround it with a more affordable tile. Simple subway tiles are bang on trend and are one of the cheapest tiled options available.  
Split: Lighting 
Lighting is important to any space, especially in kitchens when task and ambient lighting are necessary. If you're working to a strict budget, savings can be made by installing practical LED spotlights. You may choose to add smart pendant lighting later (once your coffers are replenished). 
To skimp on lighting can impact performance, however. For example, under-cabinet lighting makes meal prep easier and safer, while ambient ceiling lighting can add impact and show off your other kitchen renovation splurges. We recommend working closely with your designer to optimise lighting in your space.  
Stock up a contingency fund
In large renovation projects, a contingency fund is imperative. Prepare for the kitchen renovation to cost more than initially anticipated. While you might come in under budget, you should have enough funds to deal with any unforeseen issues that call for design changes and labour delays.  
Source kitchen renovation inspiration
Making generalisations when it comes to where to spend money on a kitchen remodel can be tricky. What's important to one person might not be for another – particularly when it comes to those who love to cook and those who don't. 
To get started, ensure you know your home's value.